Happy Christmas to everyone. It is Christmas eve and I will in India for the festive season so posts will be limited during this time. For those of you who might have too much time on hand during the holidays, and might want to plan for your next big trip to India, I have compiled some tips below. Hope this helps. I will post more about my India trip when I get back so in the meantime, have a great holiday. See you in the New Year.
What you need to know before travelling to India :


All visitors need to obtain a

tourist visa to India

, except for citizens of Nepal and Bhutan.


Remember to get

vaccination

before travelling.


October to March is the peak season to travel India due to good weather and many festivities.


December and January is extremely busy so book early to get the best prices and avoid disappointment.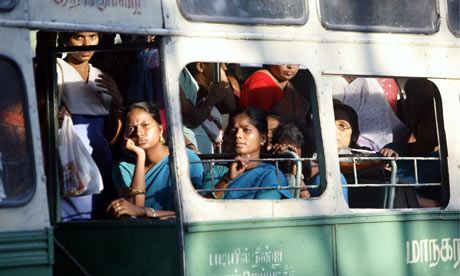 Women travelling in a bus from Chennai. Picture from Guardian.
While in India :


Be aware of what you eat and drink. Avoid drinking tap water. Drink only bottled water and make sure the lid is sealed as some vendors would refill an empty bottle with tap water and sold as new.


Stay away from eating raw vegetables unless you are in an upmarket restaurant or hotel. Eat only cooked and peeled food.


Tipping is usually between 5-10% of your bill at sit down places but if service has been charged on the bill, no extra tip is needed.


Keep your valuables safe at all times; i.e: passport, credit card, money.


Carry some cash with you as many places do not take cards. Do not display 500 and 1000 rupee notes in public.


Pickpockets operate on buses, trains and densely populated area so beware.


Women travelling by train on off-peak routes should travel in the 2nd class where there are a few passengers.


Foreign women travellers should avoid crowded places as men will take advantage of the situation to grope. Also avoid being too friendly with strangers in a disco or bar as there is a high chance of being conned or worse.


Make a loud scene when you are in such situation or if you are worried about your safety as there tends to be someone who will come to your help.


Never let the taxi pull over before your final destination or pick up more passengers on its way.


Some police can be dubious so be careful. A women have her rights to demand for the presence of a female officer if stopped at night.


**Other related posts about 

India